2017 Mary McCarthy Anderson Art Scholarship Fundraising Drive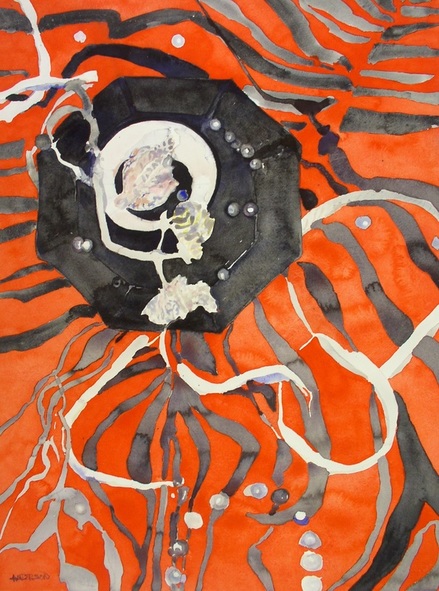 Dear Family and Friends,
We are coming up to year's end and we're hoping that you will consider a donation to the fifth Mary McCarthy Anderson Scholarship, administered through Paint Creek Center for the Arts. This scholarship in Mary's name is awarded each year to a high school senior from Oakland County who is going on to college to study in the field of art.
Last year we were pleased to give the award in Mary's name to Ashley Waddell who graduated from Utica High School and the Utica Center for Science and Industry. Ashley has wanted to be an artist since she was in preschool. She has explored many different areas of art, including graphic design and digital art. She is now studying at the College of Creative Studies in Detroit, MI.
Please click
HERE
to watch Paint Creek's video of the presentation ceremony last year. Our own Pat McGraw makes a terrific appearance, graciously representing all of us.
We trust that we can collect the needed funds again this year to support another talented young person. As a group of women who met at Paint Creek and have benefited by many classes there, we know how important art can be in one's life, and we are committed to support a student starting out on the quest.
If you did not receive a letter from one of us directly, be sure to contact us to contribute to this worthy cause.
---
A picture is supposed to be worth a thousand words: please see below !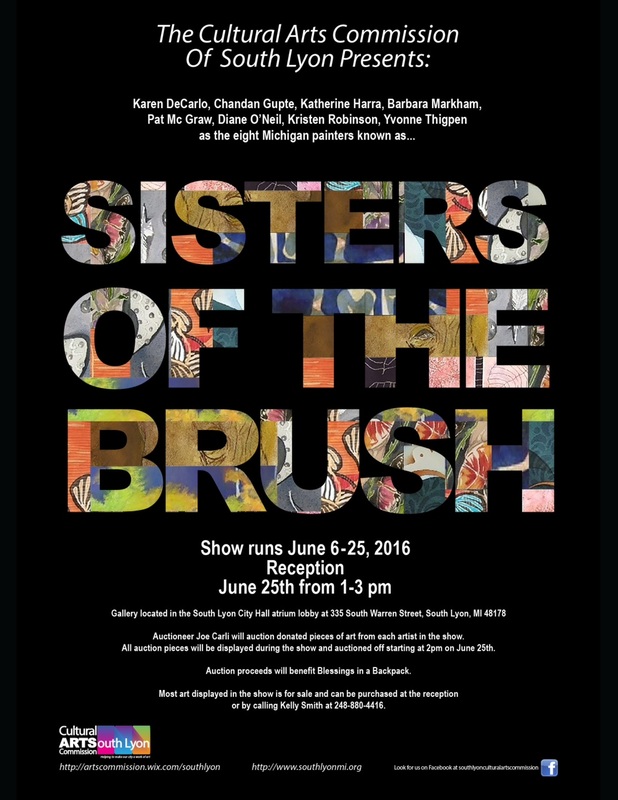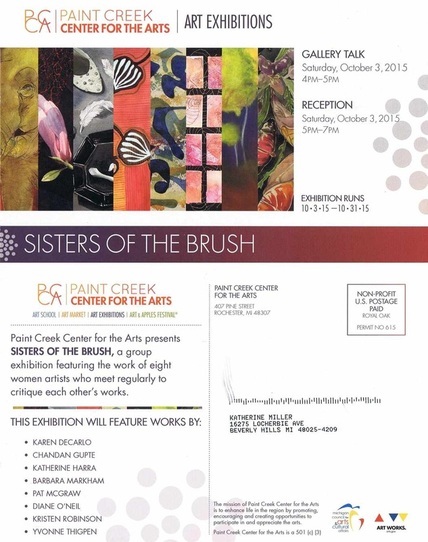 It's just around the corner now ... look at this wonderful postcard that PCCA has created! Why did we bother trying to do one ourselves? We do hope you can attend this event. There will be wine and other refreshments from 5 to 7.

Paint Creek Center for the Arts is located in downtown Rochester, west of Main Street, south of Walton.

---
Sisters of the Brush at Paint Creek Center for the Arts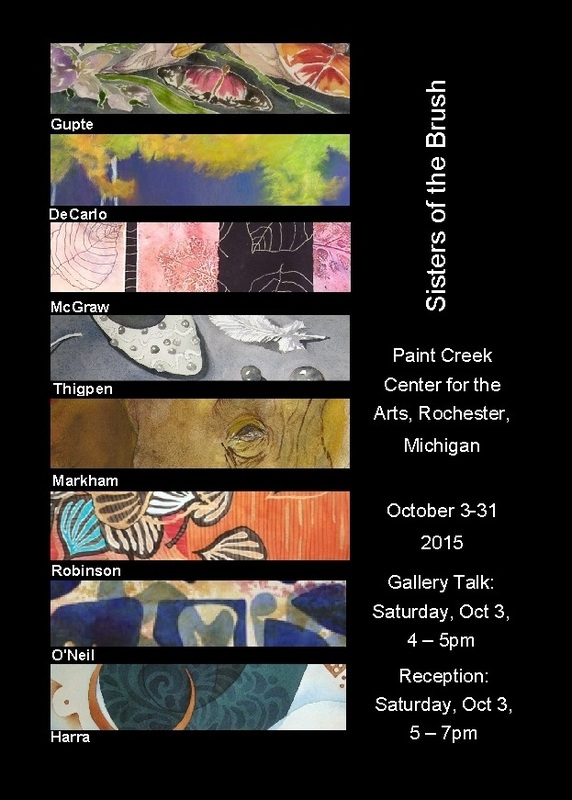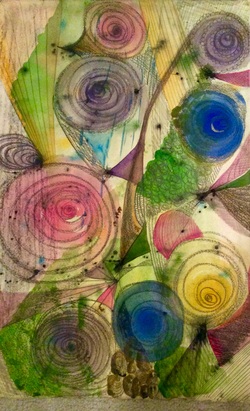 The Sisters of the Brush welcome our new member, CHANDAN GUPTE! Thanks go to Chandan's daughter, Trisha, for providing the following biography.

Chandan Gupte is the newest member of Sisters of the Brush. It is my pleasure as her daughter to introduce her. Chandan has been painting and drawing from a young age. Her previous pieces use nature and simplicity to weave striking images of the world around her, as she continued to paint, she added abstract images. Her use of abstract images emphasizes the natural beauty that many of us take for granted. Her artistic techniques reflect her caring nature; each brush stroke meeting the canvas with whatever the piece may call for, whether it is delicacy or passion. Now, that she has joined this group of talented artists to support her in her artistic endeavors, she can carry on inspiring others with the brilliance of her artistic vision.

In addition to being an artist, Chandan is a busy mom, wife and a healthcare professional and has just been conferred her third Master's degree. We are proud of her.




---
SOB Member Contributions


Watch the space below in coming months for thoughts, tips, inspirational quotes, articles, and miscellanous contributions (honestly, we don't know yet just what) from each of our members. When new items are posted, we'll move the prior ones to the bottom of this home page.

.


THE WEDNESDAY SISTERS


Several of our group have recently been delighted to read the book,

The Wednesday Sisters.

Written by Meg Waite Clayton, the book describes a small group of women who aspire to be writers, and by forming a writing and critique group, they support each others' efforts through many years and successes. They also – and perhaps more importantly in this book - support each other as friends through life's vicissitudes.

I would expect anyone would enjoy reading this lovely book, but it has special meaning for those of us in the Sisters of the Brush - who, as luck would have it, now meet monthly on Wednesdays. How could we NOT identify with the book.

It's been at least seven years since we started our critique group. Vanity demands that I make it clear, we started the Sisters of the Brush – and named ourselves thusly – long before we'd heard of this book.

The strongest parallel I found between our group and this one has been that by forming the group, by deciding to formalize it with a name, we recognized in ourselves and in each other our mutual commitment to pursuing our art. We made ourselves, declared ourselves artists.

And I think that's what it takes to have the energy and drive to keep at it, at least a bit, even when normal life has gotten in the way of productivity.

We're so glad that we have each other and that shortly we'll be showing new artwork together again, our fourth time at Lawrence St Gallery, nearing a dozen shows overall. We hope you will be able to come by the gallery for one of the two receptions, or at least stop in during May to see our work. And please, drop us a note (see the "

contact us

" page) and let us know what you think.

Submitted April 2014 by Katherine Harra

---

Painting with . . . .Tea Bags!! - by Diane O'Neil


Instead of starting my painting from a blank white sheet of paper I like to start with a base. There are several techniques I use but my favorite is to use flavored teas. I wet the paper thoroughly, then sprinkle flavored teas.

I don't have a favorite kind. Usually I use a packet of tea that has been given to my husband and he doesn't want.

After that I spray more water so the color starts to seep out. I have small spray bottles with watercolor paint and water in them, I use these after I see how the tea has reacted to the water. I let this dry 24 hours.

Once I see what kind of pattern has been left I decide what areas I want to keep and what I will paint over. I start by drawing shapes. In this case I used a doily. I drew the doily shapes in with a Sharpie. I left some shapes out so it wouldn't be too busy. An example of what it looks like at this point is shown below.

I then painted around the doilies and into the doilies until I was happy with my composition. I have used this technique with many types of paintings including portraits and abstracts. You can look at my blog

http://dianeoneilart.blogspot.com/

to see more examples (or click

HERE

).

---

Marilynn Derwenskus Workshop - by Pat McGraw


For three days at the beginning of June, I was once again in the energizing presence of Marilynn Derwenskus - a purple clothed teacher who can't help but share whatever she knows about current day art and artists, art history, recent gallery shows, and how to create a base - first layer - on watercolor paper before one must decide what to paint. She believes one should look at where the paint has dried after applying a layer of paper toweling and tissues saturated with watercolors and where one finds plain white empty spaces on the paper. She expects her students to now use references from photos, stencils, or any image that inspires the painter to weave them into those white spaces or on top of what is there. Often she insists upon a piece being a "narrative' or "metaphor" with a strong personal connection to the painter. I have found that I enjoy that part now and am more committed to the piece as a result. Marilynn is a retired college professor who can't stop teaching, sharing, pushing, responding, and leaving assignments unclear on purpose so we each create what we were meant to bring of ourselves onto the paper. I find my days with Marilynn tiring and full, but oh so exciting.

Also special about this workshop was that four of the Sisters of the Brush attended together: I was joined by Karen DeCarlo, Diane O'Neil, and Katherine Harra.

Work from several of us can be seen below.

Marilynn's work can be seen on her web site,

http://www.derwenskusart.com

Tips on Drawing and Sketching from Karen DeCarlo


* Drawing and Composition are essential to a good painting - you must become a shape maker and a shape composer, to present your subject in an eye- catching way.

* Thumbnail sketches are the ticket to taking risks when you plan a painting. You can quickly and effortlessly rearrange elements and change contrast and or a color.

*

When deciding what to use as your source material, remember: Photographs are just pictures, sketches are a feeling.

* Sketchbooks enable you to flip them open and almost always go back to where you were at that particular time.

* When planning a drawing or painting, a grid drawing on your paper helps you to correctly proportion elements to your drawing surface.

---

Yvonne Thigpen


Kristen Robinson




Karen DeCarlo




Katherine Harra




Pat McGraw




Diane O'Neil




Barbara Markham




Chandan Gupte




UPCOMING GROUP SHOWS

Level One Bank Gallery - June
Paint Creek Cetner for the Arts - Oct



SOB Member Activities



The SOBs will have a group show at Level One Gallery, Ferndale, in April, 2015, and another at Paint Creek Center for the Arts in October.

Barbara Markham is again participating in the artist cooperative gallery established in The Villages of Rochester Hills.




Special Thanks


to Pat McGraw who sponsors this website as her contribution to our group.